DATE: First January 0000-0100 UT
The object of the Contest: Licenced amateurs radio worldwide and SWL;
CONTEST CALL: CW - TEST AGB; SSB - CQ AGB CONTEST;
MODE: CW, SSB and Digital;
FREQUENCIES: CW (3510 - 3555); SSB (3700 - 3750) - recomende; Pilot frequency: CW-3540, SSB-3720
REPEAT: Each 15 minutes (8 periods) you can make CW-QSO and SSB-QSO with every station. There are periods - 0000 - 0014, 0015 - 0029, 0030 - 0044, 0045 – 0059…
ENTRY:
A – Single Operator MIXED (CW + SSB) – AGB-member
B – Single Operator CW – AGB-member
C – Single Operator SSB – AGB-member
D – Single Operator MIXED (CW + SSB)
E – Single Operator CW
F – Single Operator SSB
G – Single Operator MIXED (CW + SSB) QRP (Max 10W)
H – Multi Operator
I - SWL
J - DIGITAL - RTTY, PSK, BPSK ....
K – Single Operator FT8 – AGB-member
L – Single Operator FT4 – AGB-member
M – Single Operator FT8
N – Single Operator FT4
EXCHANGE: No AGB member stations - RST + number of QSO ( 599-001 );
AGB member station - RST + number QSO + AGB-number ( 599-001/60 );
For FT4 + FT8 station - QSO without number;
SCORING: Each QSO in your continent - 1 point, with other continent - 3 point,
Each QSO with AGB member give 5 points (Contest number /AGB-club-number);
For FT4 + FT8 station - 1 QSO = 1 point;
MULTIPLIERS: Each AGB mebmer and each new country (DXCC-, WAE-list).
LOGS: logs schould be in Cabrilo format.
Send to Igor OK8EU-EU1EU.
by email => eu1eu@mail.ru
Also you can send log by post-mail: Igor "Harry" Getmann, EU1EU, P.O.Box 143, Minsk 220005, BELARUS. The target date for 3 week.
Remarks: CW contacts in SSB portion of the bands and SSB contacts in CW portion are not allowed.
SWL Info: Same rules as transmitting section (Call of one of correspondent must be write not more 5 times in 15 minutes period).
Awards:
All contesters, who send logs will be awarded, original award of AGB-NYSB Contest in PDF format
Special SOFT for Contesters
You can use additional for N6TR, created by our AGB-members Vladislav UA4LU (AGB#055) or use special SOFT RZ1AWO, created by friend of AGB - Boris UA1AAF and tested by Mike RA1ARJ (AGB#101) - THANKS !
If you have had any Problem - let's send your questions eu1eu@mail.ru
SOFT for AGB-Contests:
http://www.ev5agb.com/contest/agb_tr4w_config.zip
Club AGB and Awards, Trophies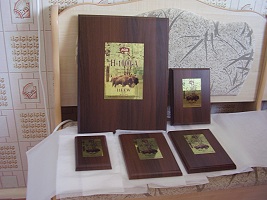 We at the beginning of creation of Club planned creation of the interesting Award Program, and in the long term, and Trophy Program. Thanks to Igor's active and fruitful correspondence of EU1EU and Ebrhard DJ8OT in the early nineties, with Boris OH5ZZ in the late nineties, it was possible to create HAM-Spirit of the Award Program and then Trophy Program who now exist and develop.
For years of existence of AGB Club we gave out thousands Awards and hundreds Trophies. It not only Pleasure of those who has our Trophies, but also Pleasure to us, for our work and creative labour.
Certainly, a lot of things from this that exists now, it would be impossible without support of such known international Clubs of award-trophy hunters, as DIG, KDR, 10-10.


Use AGB-TROPHIES for Show and Presentation
of your Victories and Merits in HAM-radio!